I finished in time ….
I've also been putting little presents in the pockets as well – hair clips, stickers, lolly snakes …
I'm also making some christmas T-Shirts.
I didn't stabilise this enough – see all of the puckers? And it took two hours to stitch out – with all of the thread changes and careful cutting of the applique fabric, but I think P will be happy with it.
Below is the one A picked – this is just an image from Embird.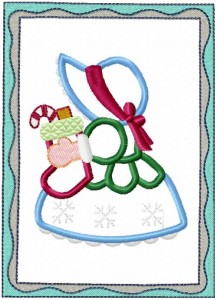 I haven't decided the fabric yet (which then determines the thread colours). I'll use a layer of romeo in the hoop to try to eliminate the puckers.